On May 4, 2005 members of the
Marijuana Policy Project
, along with U.S. Congressmen Maurice Hinchey, Sam Farr, Ron Paul, Dana Rohrbacher and Barney Frank,medical marijuana patients Angel Raich and television talk show host Montel Williams and hundreds of other medical marijuana patients and drug policy reform activists from across the US converged n Capitol Hill to voice their support for the Hinchey-Rohrabacher amendment which, if passed, would end the Federal governments war on patients.
The following clip is from the press conference where
Montel Williams makes an impassioned and heart wrenching plea to legally treat his severe pain.
A few photos of the event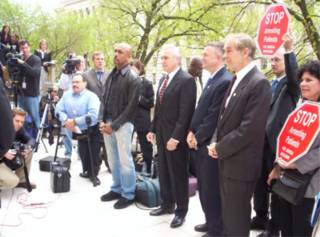 Montel Williams & three US Congressmen

Montel Williams

Montel holding Irv Rosenfeld's Government issue Medical Marijuana can

A gift we left for Congressman Mark Souder

Aaron Houston & Steve Fox from MPP